Event Details
September Chapter Meeting
Date:
September 22, 2021, 12:00pm
Organizer:
Location:

Virtual meeting via Zoom.
Registration instructions will be sent upon request at rrhrpa@gmail.com

Price:
Event Type:
iCal link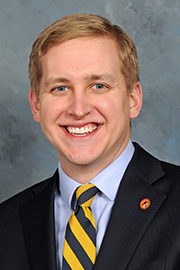 State Representative Tom Demmer will join us with the most recent events and news out of Springfield up to the day of this meeting. Additionally, he will address the most pressing issues affecting the economy and business climate in Illinois.
About
Tom Demmer is State Representative for the 90th District in the Illinois House of Representatives. The 90th District includes parts of DeKalb, LaSalle, Lee and Ogle Counties in north central Illinois. He is the Deputy House Republican Leader and serves on the Joint Committee on Administrative Rules (JCAR). As a legislator, Tom serves on several healthcare and education committees and is a strong voice for transparency, reform, and fiscal responsibility.
Tom is also Director of Innovation & Strategy at KSB Hospital, a not-for-profit community hospital with locations in Lee and Ogle Counties. Tom is a member of the senior leadership team and works to set system strategy and meet organizational goals.
Tom graduated from the University of Dayton, and previously worked as a White House Intern in the Office of the Vice President of the United States. Prior to taking his seat in the General Assembly, Tom served on the Lee County Board.
Tom is a 2016 Henry W. Toll Fellow with the Council of State Governments. He serves on the Board of Directors of the Ronald Reagan Boyhood Home Preservation Foundation. He is a member of St. Anne Parish, the Dixon Rotary Club, the Knights of Columbus, and is a volunteer teacher with Junior Achievement. Tom and his wife Rebecca live in Dixon, and together they are raising their family.